Dominion Apartments in Toorak has been a case study in the application and development of technical and overlapping systems in order to provide a workable and thorough envelope over the exposed and tiled areas of the building structure. Predominantly installed over bare concrete and screeds this project showcases the flexibility of the membrane and its versatility in installation. Having been installed on wet surfaces and being rained on it is still able to be welded together and fitted to the superstructure correctly and without fault.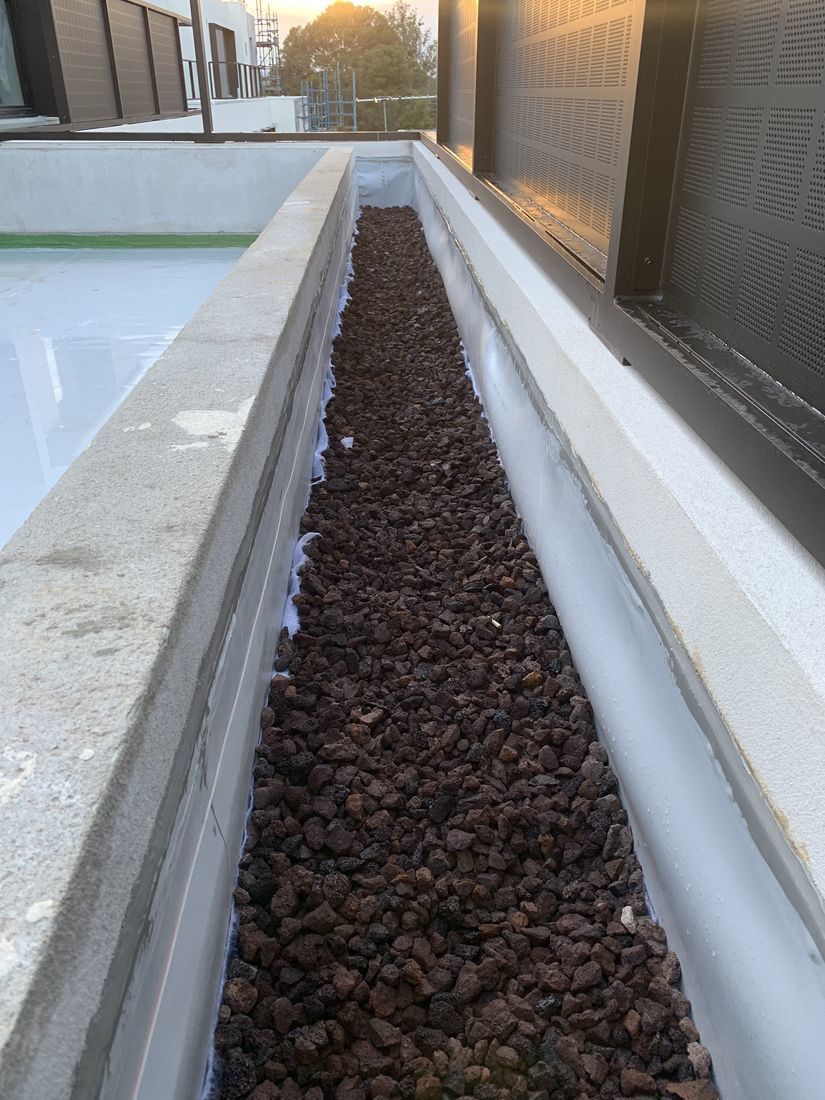 The title image shows a balcony deck prior to screeding with the Cosmofin Sheet Waterproofing installed direct to the concrete slab on level 3. The left hand portion of the waterproofing membrane is a liquid solvent polyurethane applied over two coats to bond the Cosmofin onto the stainless steel sliding door subsill. The green colour on the right hand side of the membrane is the epoxy primer layer applied to allow partial screed adhesion and providing tack for the subsequent layers of over screed membrane.
The image above shows the now filled plantar adjacent to the balcony membrane. The narrow sections allow for a pre-fabricated liner which is welded out of place and then dropped into the plantar and welded onto the chased in reglets.
Due to the weight of the soil in the plantars the corners do no require the mechanical fastening that is generally installed on the balcony decks to restrain and control movement on the main surface. The low risk of shearing damage allows for the relatively quick installation.
Overall Cosmofin Sheet Membrane Waterproofing provides a reliable and durable system covering much of the complex details generated on high end apartment construction. Pipe clamps, custom drainage pops, epoxy anchoring and many other auxilery systems and used in conjunction with the waterproofing to provide greater coverage over areas of suspected weakness and to support and build upon the membranes strengths. It's ability to be welded onto the PVC drainage flanges prevents lateral leakage and thorough overlapped testing of the welded components ensure a long lasting waterproofing installation.
Completed on the open span and minimalist designed Dominion Apartments in Toorak. With architecture by Robert Mills Architecture and project management by Merkon Construction. Projex Cosmofin has been a perfect membrane to install and provide outstanding structural waterproofing to this bespoke project.
Aquaseal Waterproofing Systems Toorak